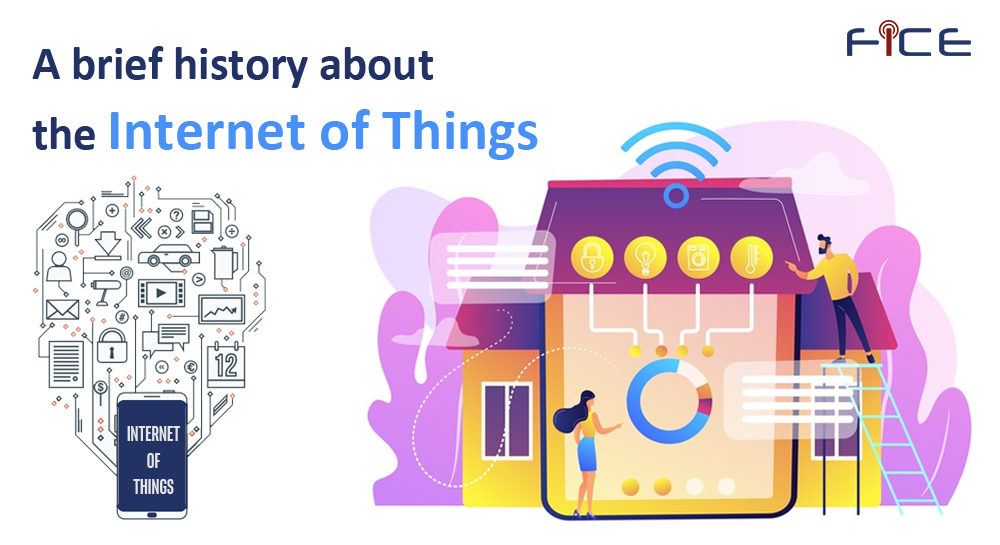 History of the Internet of Things
Defining IoT
Internet of Things is a network of physical objects —or "things". It connects and exchanges data with other devices and systems over the Internet. Essentially, it is a system of interrelated, internet-connected objects that can collect and transfer data over a wireless network without human intervention and allows us easy control over our devices, appliances, and equipment.
IoT (as "Internet of Things" is shortened) has made it possible for devices to relay information to one another. It takes multiple devices and connects them to a cellular network connection. Such connected devices (like security cameras, GPS tracking, retail POS machines, etc.) are considered a part of an IoT network as they communicate back and forth with a central hub. SIM cards and radio technology in devices enable this connection and communication, opening up endless possibilities for technological solutions. The history of the Internet of Things allows us to see just some of these infinite possibilities come to fruition. And, as all history does, it also enables us to hypothesize where it will take us in the future.
A Brief History
As per "The Only Coke Machine on the Internet", the modified Coca-Cola vending machine at Carnegie Mellon University created in 1892, was the first Internet-connected appliance. It was able to report its inventory and whether the newly loaded drinks were hot or cold. It thus became the first IoT device, exposing the world to the possibility of such a concept.
Kevin Ashton, the then-executive director of the Auto-ID Center at MIT, coined the term "Internet of Things" in 1999 while working on a presentation for Procter & Gamble on RFID supply chains.
Timeline
The first landline of the telegraph was developed in the mid-1800s. It provided direct communication and inspired the further development of similar technologies. The first wireless voice transmission was performed on June 3, 1900, over the radio, pushing the edge of innovation. This vital component of the future IoT environment was complemented by computers that appeared in the 1950s.
Let's look at how IoT began, and how it progressed. Here's a timeline to help you visualize as you read:

THE FIRST DECADE (the 1980s) – Humble Beginnings


1982
Students at Carnegie Mellon University developed the ARPANET-connected Coke machine, which not only does the vending and labeling of Coke but also allows the users to control it via a remotely available interface. This inspires a lot of inventors all over the world to create connected appliances like the Coke machine.
1989
Tim Berners-Lee proposes the World Wide Web or the Internet, the packet switching network. The Global Positioning System (GPS) becomes available for commercial use, providing future IoT systems with basic communication, and making the development of interconnected devices easier.
1990
A toaster connected to a computer and the internet via TCP/IP protocol is displayed by John Romkey at an exhibition by UBM, making it another one of the first IoT devices.
THE SECOND DECADE (the 1990s) – The first steps
Prototypes

1993
XCoffee is developed at the University of Cambridge. This is a coffee machine connected to a camera that sends photos to the client application to keep the user updated on whether the pot is filled or empty.
1994
Steve Mann creates a wearable Internet-connected camera. The WearCam was an "experiment in connectivity", transitioning captured images to a computer via the Internet.
1997
In October, the first International Symposium on Wearable Computers takes place, where inventors discuss the performance support of wearable computers, input mechanisms, and communication capabilities.
1998
IPv6 is introduced, changing communication technology. This is the version of IP that we still use today!
1999
Kevin Ashton introduces the term "Internet of Things".
2000
LG announces the Internet Digital DIOS – the world's first Internet-enabled refrigerator.
THE THIRD DECADE (the 2000s) – Giant Leaps
IoT as a key industry

2004
The term "Internet of Things" becomes popular. Huge publishers, newspapers, and magazines start to mention IoT in their articles. For example, The Boston Globe has an archive of its publications where we can find the article, "The Internet of things. Start-ups jump into next big thing: tiny networked chips," dated October 25, 2004.
2005
The Internet-connected device, Nabaztag is invented. It is a small rabbit-shaped robot for consumer use, manufactured to connect to Wi-Fi networks, gather weather reports, news, and stock market changes, and read them aloud to its owner.
2008
The First International Conference on the Internet of Things (IoT 2008), takes place in Zurich, Switzerland, and covers the topics of IoT development – like short-range wireless communications, real-time localization, sensor networks.
2009
Google starts testing self-driving cars. The first car to take an autonomous ride is a Toyota Prius. It has a sensor-enabled device on its upper deck that is able to detect pedestrians, cyclists, road work, and other valuable objects. At the present moment, the software is powerful enough to predict the behavior of all road users.
St. Jude Medical adopts IoT for healthcare. It launches a Wireless USB Adaptor that receives data from a patient's cardiac implant and then securely transfers the data over cellular networks to physicians. When it is impossible to connect to a network, the device can perform remote monitoring.
2010
China picks IoT as a key industry, using it to tackle the financial crisis and other country-sensitive issues.
A company called Nest starts to manufacture smart home appliances. Former Apple engineers join a startup born from the idea that thermostats are not meeting the requirements of the market. The first product is a Nest Learning Thermostat that is able to learn its users' habits and, as a result, optimize its heating schedule. This is the world's first IoT thermostat powered by machine learning.
The Fourth Decade (the 2010s) – Acceleration & braking
Giant Leaps with security issues (malware)

2011
World IPv6 Day. The event is organized by Facebook, Google, Yahoo, Akamai Technologies, and Limelight Networks, to motivate Internet providers and web-hosting companies across the industry to prepare for the transition from IPv4 to IPv6 when the IPv4 space runs out. More than 400 participants, including search engines, social and content distribution networks, join the experiment.
Gartner adds IoT to the Hype Cycle. It tracks the lifecycle of technologies, and the IoT is immediately transitioning to the stage "peak of inflated expectations". According to the graph, IoT will be able to reach the peak of the stage in 2014.
2013
Google announces a brand of smart glasses which feature a display that can show information hands-free, and a natural language voice recognition module to connect to the Internet via spoken commands.
2014
The number of mobile devices, wearables, and other gadgets exceeds the number of people. In 2014, there are 7.2 billion devices, and statistics show that they are multiplying 5 times faster than humans.
Google spotted the potential behind the Internet of Things and smart home gadgets in particular and buys Nest to invest in the future of IoT-powered houses and complement its hardware division.
Novartis partners up with Google to create contact lenses that measure glucose levels.
Amazon releases an ambient device, Echo. This is a cylinder-shaped smart speaker with voice control: capable of playing audiobooks, setting alarms, writing down the to-do lists, and other personal assistant tasks. The device achieves a certain success and in 2021, comes in a variety of shapes and technical parameters: Echo Dot, Amazon Tap, and others.
Samsung acquires a home automation startup SmartThing, making a great contribution to the market of IoT systems. Starting as a Kickstarter project, SmartThing now is a cornerstone of all Samsung smart projects.

2015
Mattel produces IoT-enabled toys, the first being a Barbie model with an embedded Wi-Fi module and a toy house with built-in interactive details: voice-controlled light bulbs and a toy oven with fire.
The Global Standards Initiative on the Internet of Things takes place. IoT standards are defined.
2016
General Motors invests in Lyft to create a network of self-driving cars, & plan a ride-sharing service. Both sides of the partnership believe that self-driving cars will hit the market of ride-sharing first, rather than driver-owned vehicles.
Cisco acquires Jasper. Under the roof of Cisco, Jasper provides businesses with the ability to launch, manage and monetize their IoT services on a cloud-based platform. Jasper has also started a platform for connected cars, following the popular trend.
Apple showcases HomeKit products at Consumer Electronics Show, a proprietary platform that provides developers with comprehensive tools for developing smart home appliances' software. Apple made it easier to create and manage IoT devices with Siri – wall outlets, light switches are easily controlled with voice.
Google releases Google Home, a smart ambient device with the ability to heed voice commands with the help of an intelligent Google Assistant. Google Home allows for integrating third-party services providing users with a wide field of interaction.
The first IoT malware appears. Mirai malware's idea was extremely simple. The hardware manufacturers set default passwords for their devices, and sometimes the users forgot to change them. Mirai collects the default credentials and hacks the devices that still have them. Then it uses the devices to perform DDoS attacks on popular websites.
2017
Large caps offer extended IoT services. A few examples:
Microsoft launches Azure IoT edge that allows small devices to utilize cloud services even if they are not connected to the cloud.
Amazon offers advanced security and device management features.
Google releases Cloud IoT Core that allows devices to connect to the cloud more easily.
Governments around the world start to think about IoT security. Following a set of cybersecurity violations that have happened to different companies, governments have started considering developing laws to make IoT environments safer. For example, Senator Mark Warner introduces the "Internet of Things Cybersecurity Improvement Act" to the US Senate.
Cryptocurrencies focus on IoT. The blockchain was linked to IoT because of the abovementioned security concerns. With the help of blockchain, devices can exchange smart contracts in a secure distributed environment. To help adopt blockchain and make IoT secure, a special organization "Trusted IoT Alliance" launches. Several cryptocurrencies were developed based on IoT: IoT Coin, IOTA, IoT Chain.
The Future
Having all this information at hand, it is possible to foresee what is coming next in IoT: