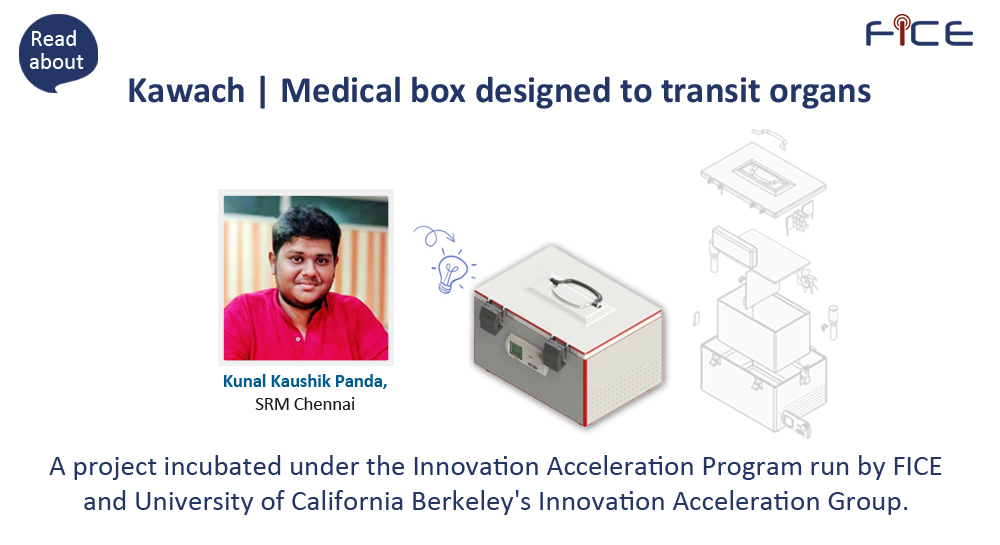 The story of Kawach: The medical box
3D printed drugs, implants for recreational purposes, and many other incredible innovations are emerging in medicine and healthcare, paving the way for a bright future. There are promising solutions in the market, and we continue to see profound changes in the approach to medical operations. Today we will be talking about one such story that led to exceptional innovation.
After graduating as a Bio-Medical Engineer, the extremely bright Kunal Kaushik Panda part of the Innovation Acceleration Program run by FICE and the University of California Berkeley's Innovation Acceleration Group to enhance his biotech knowledge. A platform where he was able to explore his vision, the Kawach- Medical Box.

The project, in brief, is a piece of medical equipment designed to transport organs or medicine that needs efficient cooling and particular time latency transit. Seeing the present workability, where cooling-boxes are made of thermocol or plastics, and inside, pallets or ice cubes are used. The Kawach- Medical Box tends to have a smarter working and have efficient technology to substitute the lists of issues happening with the present system. Thus the project primarily focuses on, integrated technology for effective organ monitoring during transportation, thus ensuring that the organ is safe and sterile while in transit and overcoming all drawbacks/restrictions in the existing system:
operated with fully sealed ice packs using Pallet Thermo/Gel Plates/PVC Gel Beds/Gel Packs to introduce/retain the cooling for the organ while in transit.

lag in technical stacks such as Adaptive Temperature Control, Multilayered Compartments, Real-Time Monitoring of the Organ condition, etc.

not suitable for long-distance transit since the temperature inside the box will drop after a while, and they have to change the ice packs periodically to maintain the sustainable temperature for the organ.
Other features include temperature control with real-time monitoring and an alarm system.
The project has been selected for a grant by the MSME Government of India and recognized by UC Berkley Global Accelerator Showcase. Kunal and his team are currently seeking support from agencies that can help improve the product. Other than the MSME grant, they are bootstrapping to make the necessary arrangements. 
The team is building a prototype as they have developed patterns and designs. Once the final prototype is developed, Kunal and his team will be planning to get clearance from IMA (Indian Medical Association) for its usage and other clearance from the Government to develop its market-ready product.
Kunal Kaushik Panda is presently perusing a

master's degree in Environmental Engineering at SRM Chennai, counting experience and learning with time. Recipient of the Best Student Award by the Indian Society of Technical Education (ISTE) Tamilnadu Chapter in 2019 and has also received recognition from the Chhatra Vishwakarma Award by the Government of India. Kunal has his own company, Key Live Innovations and Solutions Pvt Ltd, and is a Trustee in Xavier's Children Education and Welfare Trust that has a chain of schools in the Southern part of Odisha.
We wish Kunal and his team all the best for their very bright future ahead!